The opportunities for further development in the country appear huge, with a grid operator willing to recognise the role energy storage can play in balancing the network. Solar Media Market Research's Lauren Cook explains what's happening. Co-authored by Molly McCorkindale, who is also an analyst with our in-house research team.  
Utility-scale battery storage project activity started for real during 2020, with a strong pipeline of projects built up in the last few years and ready for deployment in 2021 and beyond. Understanding what these sites look like (size, build phasing, co-location status), the key stakeholders at the pre-build stages, and when construction is likely to start, now form the main questions for component suppliers and final asset owners.
Our in-house market research team has recently expanded the number of sites in the pipeline, reflecting new levels of market interest, and suggesting that long-term sustained growth in the sector could be achieved going forward.
Build-out started in 2020 with growing pipeline for next few years
During 2020, the first two utility-scale battery storage projects became operational in the Republic of Ireland: at the start of the year, the 11MW Kilathmoy project by Statkraft was completed; this was followed by the 100MW Lumcloon project from Hanwha Energy and Lumcloon Energy at the end of the year.
A pipeline of over 2.5GW has now emerged in Ireland. This article discusses how the market has evolved, including an outlook for 2021 and beyond.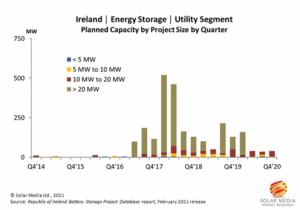 The graphic above shows how the pipeline for utility-scale battery storage projects in Ireland has evolved by around 25% in the past few years. The first major project (larger than 20MW) was submitted into planning during 2017; namely, the 100MW Lumcloon Project that has just been energised.
Since this project's application submission stage, the capacity of battery storage projects in planning has increased, especially from Q1 2018 onwards. It is important to recall that battery storage projects in Ireland must have planning consented in order to apply for a grid connection contract.
Standalone site location dominates short-term construction plans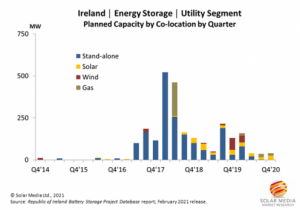 Over 75% of the battery storage pipeline is made up of standalone projects; however, there has been increased interest in co-location with wind and solar since 2018, albeit typically smaller in capacity.
Most new planning applications for solar and wind farms – since the end of 2018 – have included battery storage. The timelines for these projects can often be uncertain, as deployment of solar in Ireland is still at an early stage. Furthermore, wind farms can take a long time to fully develop.
Consequently, is not clear what the revenue streams for these renewables projects will be: whether they are able to participate in the Renewable Energy Support Scheme (RESS) with co-located battery storage; or if they are looking beyond the RESS to an unsubsidised model. For this reason, it is likely that standalone projects will continue to make up the majority of utility-scale battery storage projects in 2021 at least.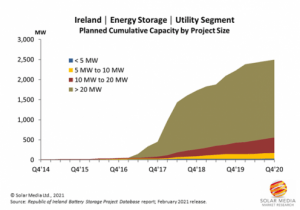 The largest part of the pipeline in Ireland is made up of projects larger than 20MW; these projects are also mostly standalone, as opposed to co-located. So far, the DS3 scheme has favoured larger projects, with two 30MW projects and one 50MW securing DS3 Volume Capped Contracts in 2019.
Planning acceptance has fast turn-around
The final graphic (shown below) outlines the build status of all utility-scale battery storage projects in Ireland. Currently, there is just over 100MW of operational capacity. About 250MW of projects are currently under construction and due to be energised in 2021.
There is a further group (circa. 250MW) – with both planning permission and grid connection contracts – that are primed to progress now; these projects will be looked at closely by investors in the short-term, with potential build-out during 2021 or 2022.
The largest category of projects are those with 'planning consented'; over 1.4GW. Typically, planning for battery storage is a much shorter process than seen for renewables such as wind and solar. The next step for these planned projects is to apply for a grid connection contract from ESB or Eirgrid.
The strong pipeline of projects in planning – and with planning approved – highlights the continued interest in the utility-scale battery storage market in Ireland, beyond the initial push that came from the DS3. In 2021, key sector stakeholders will be paying close attention to upcoming plans for the DS3, while looking at alternative routes to market, including the capacity market and merchant trading (as seen in the UK and across other parts of Europe).
The increasing deployment of renewables in Ireland also means that battery storage will play an important role in maintaining the grid; this is recognised by regulators charged with processing the grid connection applications.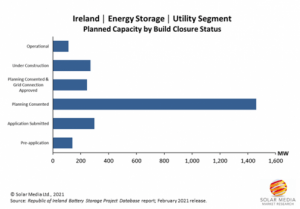 Original article: https://www.energy-storage.news/blogs/ireland-has-more-than-2.5gw-of-grid-scale-battery-storage-in-development-st