The MaresConnect project  is consistent with and responds to Ireland's Climate Action Plan.  MaresConnect will foster the integration of further, substantial renewable energy sources with over 8GW of wind and solar to be connected by 2030 to meet EU targets.  Increased electrification of heat and transport will increase total peak demand which can be mitigated by the project.  Ireland's National Policy Statement on Interconnection recognises the importance of cross border links with its neighbours. EirGrid's Tomorrow's Energy Scenarios calls for further interconnection to be built to Great Britain.
Ireland's Department of the Environment, Climate and Communications (DECC) has launched a technical consultation for the Electricity Interconnection Policy, published in 2018, in order to update it to reflect the developments that took place over the years.
Published in July 2018, the National Policy Statement on Electricity Interconnection emphasises strong government support for increasing electricity interconnector capacity between Ireland and neighbouring markets.
The Climate Action Plan 2021 (CAP21), published in November last year, requires that the policy statement be updated by the fourth quarter of this year in order to reflect significant developments that have taken place over previous years.
CAP21 builds on Ireland's 2020 Programme for Government which sets out a commitment to strengthen the existing policy framework for electricity interconnection to incentivise further interconnection and to commence planning for future interconnection with neighbouring countries.  
In addition to articulating the Irish policy positions, this statement has provided clarity to potential interconnector investors and has assisted the Commission for Regulation of Utilities (CRU) in determining an appropriate regulatory approach to electricity interconnection.
The consultation is seeking stakeholder feedback on the impact of increased interconnection capacity on achieving 80% renewables and 5 GW of offshore renewable energy by 2030, and government's longer-term post-2030 energy and climate objectives.
The closing date for submissions is 5:30 p.m. local time on 10 August.
The recent Climate Action and Low Carbon Development (Amendment) Bill 2021 (Climate Bill), newly published carbon budgets and Climate Action Plan 2021 (CAP 21) place Ireland as one of the most ambitious nations in the world on tackling climate change.  Their publication was timely, as the world closely followed events at the COP26 conference in Glasgow in November, climate action is very much at the forefront of every business, city and country, with more and more stringent targets and mechanisms being announced every day in the hope of staying within a 1.5C global warming scenario. Russell Smyth and Shane O'Reilly of our Sustainable Futures team explain.
Worth €125 billion, CAP 21, released in early November, details the measures Ireland needs to implement and action to reach our economy-wide emissions reduction target of 51% by 2030 (compared to 2018 levels) and ensure that we stay within the first two legislated carbon budgets. These carbon budgets essentially put a cap on the total emissions Ireland can emit within a set period – the first two 5-year budgets require an average annual cut in emissions of 4.8% for the first budget (2021-2025) with this increasing to an 8.3% annual cut from 2026 to 2030.
Where will this €125 billion go? This is what's set out in the CAP 21 – each sector of the economy has a series of mitigation measures or actions to implement within this decade to reach their own reduction targets and wider national targets. There is an acknowledgment that some sectors will need to do more and may be more heavily impacted than others. To ensure a just, fair and equitable transition, a Just Transition Commission is to be set up, as well as a target for additional carbon tax receipts up to 2030 to support social protection measures, retrofitting for social and low-income homes as well as the agriculture sector.
The CAP 21 is clear in its goals – it sets out a total of 475 ambitious actions each sector of the economy needs to adopt to reach our national goals and ensure a climate resilient society and economy. Some of the key themes and highest emitting sectors of the economy and their actions and reduction targets are set out in the plan.
Climate disruption is already having diverse and wide ranging impacts on Ireland's environment, society, economic and natural resources. The Climate Action Plan 2019 'to tackle climate breakdown' published by the Department of Communications, Climate Action and Environment, sets out an ambitious course of action over the coming years to address this issue.
The plan sets out a roadmap to 2030, which in electricity terms, primarily involves an increased reliance on renewables from 30% to 70% adding 12GW of renewable energy capacity (with peat and coal plants closing) and the utilisation of further interconnection. The MaresConnect project aligns with the plan and will deliver towards the benefits sought.
Achieving 70% renewables will require Ireland to build out significant infrastructures and the capacity to integrate new technologies. This will be a significant challenge. However these changes are necessary if Irish society is to avoid having stranded fossil fuel assets as the transition accelerates in the 2030-50 period.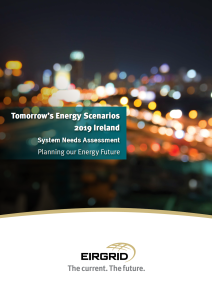 EirGrid's Future Energy Scenarios 2019
Coordinated Action outlines the scenario where sustainability is a core part of decision making and proposes that at least two additional interconnector to Great Britain are built by 2040 in order to facilitate higher RES-E levels.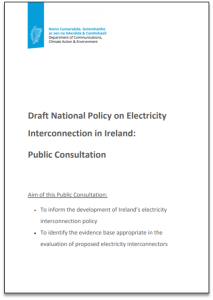 Ireland's National Policy Statement on Interconnection
MaresConnect further aligns with Ireland's National Policy Statement on Interconnection published in 2018. Ireland's peripheral location at the edge of mainland Europe means that it is naturally isolated from the wider European electricity grid. This fact, combined with the small size of the market, leads to risks to security of supply and reduced competition. Steps have been taken to address this isolation by building/planning interconnection infrastructure that links Ireland to larger cross border markets and brings direct benefits to Irish consumers through lower energy costs.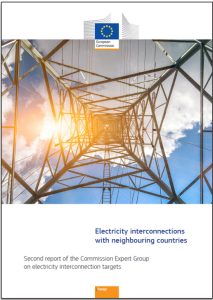 EU Policy on Interconnection
The European Commission Expert Group on Electricity Interconnection Targets now recommends an increased threshold target of interconnection capacity of at least 30% of installed renewable generation capacity by 2030. This is designed to ensure adequate export capacity for the continued development of renewable generation in Member States and is of particular importance for Ireland, with high wind generation capability. The November 2016 Clean Energy Package for All Europeans, still being negotiated, will likely have further impacts on electricity interconnection across Europe. In particular, some of the provisions of the three proposed Regulations and Directive relating to the internal market for electricity is expected to lead to an increasing focus on interconnection as a means to addressing security of supply considerations.